The collars have been grouped together based on a series of themes that arose during the interview process. The current phase of this project is to link in segments of the oral histories audio recording into an overlapping conversational soundscape.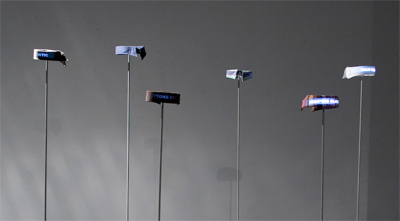 Conversational Group - Collars, Australian National University, Canberra, Australia (2008).
In November 2008, one collar conversation group was installed at Canberra Contemporary Art Space, Manuka as part of the dorkbot cbr exhibition.
In July 2008, we presented an artist talk on Collar in Singapore at the 2008 International Symposium on Electronic Arts (ISEA). To an audience of approximately 40 people, we discussed the concept of the work, the collection process, the development proces so far, and the future stages and iterations of the work.
Collars was installed in October 2007 in the front shop window of High Tea With Mrs Woo in Newcastle, Australia, as part of the re:skin exhibition at the 2007 Electrofringe festival.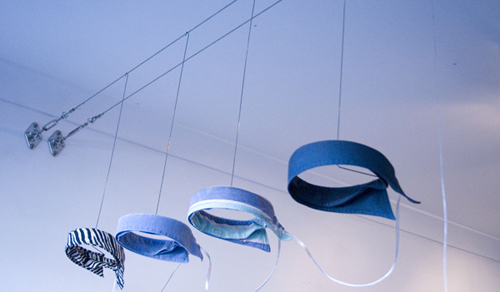 Collars at Electrofringe Festival, Newcastle, Australia (2007).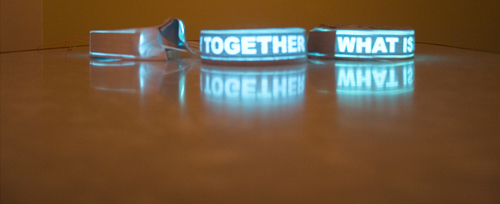 Collars - work in progress - re:skin, Canberra, Australia (2007)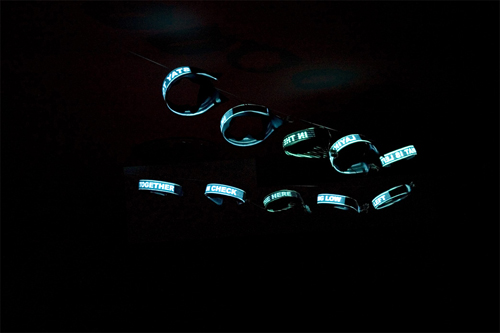 Collars - V formation, illuminated text

Collars - suspended, illuminated text
Thankyou to our participants - Alessandra Pretto, Antonio Gambale, Caolan Mitchell, Govinda Lange, Jasmine Guffond, Joc Curran, Justine White, Lindsay Bingham, Maria-Eleni Alesandre, Marie-Louise Ayres, Melissa Penrose, Meredith Hughes, Michelle Fix, Nick Mariette, Nicole Leuning, Quentin Mitchell, Rod Gillespie, Rowena Jamieson, Rozi Suliman, Willow Fix Berry - we are humbled by your very personal contributions.


Thankyou to the sponsors for our materials components - E-Lite and Sun Industries, Thylacine for construction of the custom-built collars stands, programming for the lighting sequences by Ben Lippmeier and additional audio editing by Christian Malejka, for this support we are very grateful.
This work began at Create_Space, the 2005 Australian Network for Art and Technology media laboratory held at the Meat Market in Melbourne, Australia.