Gesture≈Sound
This page documents outcomes of a residency undertaken by , Danielle Wilde and Somaya Langley at STEIM, Amsterdam in July 2007. Our main goal was to explore and experiment with new methods for controlling and performing computerised sound using whole-body gesture.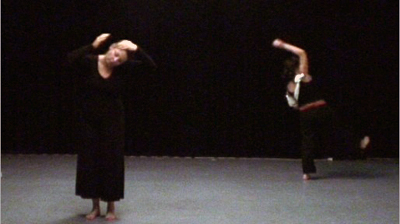 Danielle Wilde (left) and Somaya Langley (right) demonstrate a hyper-instrument experiment involving two performers manipulating a single sound (video still)
Our approach was multifaceted and reflected the interests of the collaborators. Considerations included: physicality in the space, sonic and compositional form, structure and aesthetics, conceptual semantics, sensor technologies and applications. These concerns were used as the basis for devising experiments, some of which were undertaken without interactive technology. For example in the early phases of the residency we experimented with movement-only composition, and later, some of the sound mappings were prototyped by improvising movement to pre-recorded sound.
The residency focused on two sensor technologies: 3-axis accelerometers (deployed using 7 Nintendo Wii Remotes), and a custom wireless ultrasonic range finding system, which we developed to measure the distance between performers. The sensor systems drove various sound synthesis algorithms running in a custom version of AudioMulch using the Lua scripting language to specify the mappings between sensor data and sound. Max/MSP was used to translate the various sensor data to Open Sound Control Protocol with the help of the aka.wiiremote max external.
---
This paper reports on outcomes of a residency undertaken at STEIM, Amsterdam, in July 2007. Our goal was to explore methods for working with sound and whole body gesture, with an open experimental approach. In many ways this work can be characterised as prototype development. The sensor technology employed was three-axis accelerometers in consumer game-controllers. Outcomes were intentionally restrained to stripped-back experimental results. This paper discusses the processes and strategies for developing the experiments, as well as providing background and rationale for our approach. We describe "vocal prototyping" - a technique for developing new gesture-sound mappings, the mapping techniques applied, and briefly describe a selection of our experimental results.
Download paper: Gesture ≈ Sound Experiments: Process and Mappings (PDF)
---
---
In each of the experimental outcomes we strove to maintain a balance in the relationship between movement and resultant sound that was easy to perceive for audience and performer alike. The mappings discussed were intentionally simple. The development of more complex mappings is a clear direction for further investigation.
Engaging the body in performance necessarily raises notions of the body as interface, and, for the audience, physical theatre, or theatre of the body. We feel that it is difficult to escape a theatrical mode of interpretation when confronted with a musical performer without an instrument, which of course also invites a dramaturgical mode of composition. We consider the dialog between musical and theatrical creation to be a significant area for future development in whole body gesture sound performance.
As previously observed by Bahn et al. performing with the whole body involves skills not always possessed by musicians - some of the authors are now considering training in this area to continue the research.
Finally, the sensor technology employed so far has been adopted as a pragmatic prototyping aid. We are now investigating options for smaller, wearable sensor platforms.
---
Bencina, R., Wilde, D., Langley, S., "Gesture ≈ Sound Experiments: Process and Mappings", In proceedings of the 8th International Conference on New Interfaces for Musical Expression (NIME), Genova, Italy, 4th - 8th June 2008
---
---
---
We gratefully acknowledge the support of STEIM for hosting this residency. For their financial assistance we thank The Australia Council for the Arts, The Australian Network for Arts and Technology, Monash University Faculty of Art and Design and CSIRO Division of Textile and Fibre Technology.
---
© 2007-2008 Ross Bencina, Danielle Wilde, Somaya Langley. All Rights Reserved. All contents Copyright unless otherwise noted. Re-purposing of content from these pages without explicit permission is prohibited.