MetaSense
MetaSense is an audiovisualcollaboration between Somaya Langley and technologist Nick Mariette (soundsorange.net). Utilising current audiovisual processing techniques (such as granular synthesis), live and pre-recorded field recordings are manipulated in realtime, resulting in live multichannel performances and surround-sound studio works.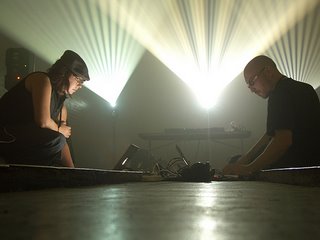 photo: Etienne Deleflie
---
The Great Escape Festival 2007
Three performances in the Feedback Chambers at the Great Escape Festival over three nights, Newington Armoury, Sydney, April 7-9 2007.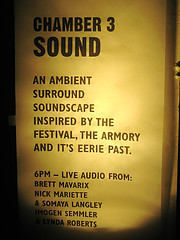 Peat's Ridge Festival 2006
Performance in the Chai Tent at Peat's Ridge Festival utilising sound recordings from the Vietnam fieldtrip, Glenworth Valley, December 30 2006.
One If By Will
Soundtrack by for the film One If By Will by EOR Media.
This project has been assisted by artsACT on behalf of the ACT Government.

Australasian Computer Music Conference 2006
Multichannel work, Tourist x2, presented at the Australasian Computer Music Conference, Adelaide, July 2006.
This work uses field recordings taken in at the market off Las Ramblas , in Parc Guell and in Placa Orwell - including a spontaneous monologue (in Catalan) by a random passer-by.
Anti-Sedition Exhibition - Casula Powerhouse
"We think, we say" (digital print triptych), anti-sedition exhibition at the Casula Powerhouse, Sydney, December 2005.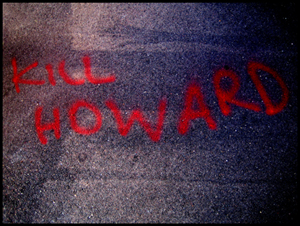 (single panel - digital triptych)
Harvest Moon Festival 2005
Tourist x2, a multichannel channel studio piece produced for the Communauté électroacoustique Canadienne (Canadian Electroacoustic Community), September 2005.
Electrofringe 2005
Performance, Speech to Noise?, and discussion at SPA[v]CE (a showcase of surround sound practices in a live performance environment) at Electrofringe, Saturday 2nd October 2005. For more information see: www.electrofringe.net and www.thisisnotart.org/Program/EventDetails/tabid/783/xmid/776/Default.aspx
---
---
Field Trip - Vietnam
MetaSense field trip #2 - collecting audiovisual recordings in north and central Vietnam (Hanoi, Hue, Hoi An, Sapa) December 2005 - January 2006.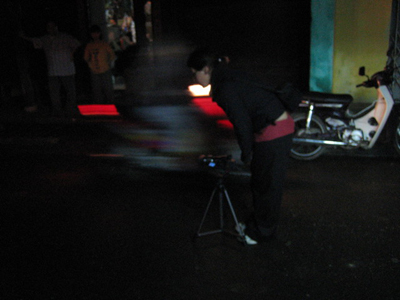 photo: Nick Mariette. Night-time video recording in the streets of Hoi An
Field Trip - Barcelona, Berlin
MetaSense field trip #1 - collecting multichannel audio recordings (using an ambisonic microphone) in Barcelona (Parc Guell, Placa Orwell, Las Ramblas market) and Berlin, (Alexanderplatz S-Bahn station) June 2005.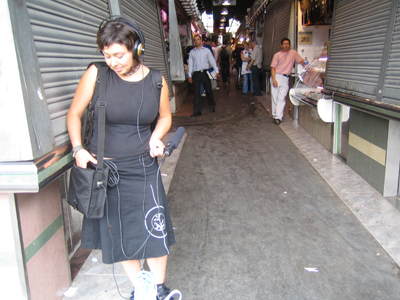 photo: Nick Mariette. Recording in the markets off Las Ramblas, Barcelona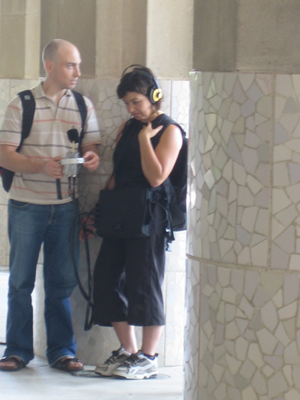 photo: Sarah Graham. MetaSense recording in Parc Guell, Barcelona