Somaya Langley has a background in the broad scope of digital culture with a focus on sound/media arts, digital collections/archiving, festivals and events. Both her professional and artistic interests lie somewhere in the realm of ideas, information, technology, socio-politics, communities, networks and empowerment.
Somaya has worked in the fields of online delivery and digital collecting and preservation for the Australian Music Centre, Design & Art Australia Online, the National Film and Sound Archive of Australia, the State Library of New South Wales, and the National Library of Australia, which included the projects MusicAustralia and the Library's Digital Collections. She was Production Manager of the International Society of Contemporary Music 2010 World New Music Days festival and was a Co-Director of the 2008 and 2009 Electrofringe festivals. In 2009 she was Co-Curator of Transit Lounge, a partner project of Berlin's transmediale festival. In 2010 to 2011 she worked as a part-time Producer for ABC Classic FM's the Australian Music Unit and undertook research to develop a scoping study report on Archives in the Digital Era for the Australia Council for the Arts.
Her work has been presented and performed in conferences and festivals throughout Australia and internationally including CTM, Cells Button, DOCAM Symposium, SEAM Symposium, the International Symposium of Electronic Arts (ISEA), Tuned City, New Interfaces for Musical Expression (NIME), das kleine field recordings festival, Liquid Architecture, the NOW now festival, the International Conference on Auditory Display (ICAD), UNAUSTRALIA - the Cultural Studies Association of Australasia Annual Conference, Sound Lab Channel III, Electrofringe, the Australasian Computer Music Conference (ACMC), the Australasian Sound Recording Association (ASRA) Conference, the Australian Institute for the Conservation of Cultural Material (AICCM), the Totally Huge New Music Festival, the Melbourne Fringe Festival and Skylounge. In addition, from 1997 to 2007 she presented the radio program, SubSequence, broadcast in Canberra and across the Australian Community Radio Network.
Somaya's arts practice focuses on embodied and immersive experiences mediated by technology, to initiate socio-political dialogue. This has included, ID-i/o (a live solo audiovisual sensor-performance endeavour), and Mobile Patters (a wearable audio experience). Collaborative installation and performance projects over the past decade include Collars with media artist Alexandra Gillespie, MetaSense with sound technologist Nick Mariette and HyperSense Complex with Dr. Alistair Riddell and Simon Burton. Somaya was also a member of the research project Thinking Through the Body, initiated by George Khut and Lizzie Muller along with Jonathan Duckworth, Lian Loke, Garth Paine, Maggie Slattery and Catherine Truman. She has a love of field recording and in addition to her own field recording around the world, she has participated in sound recording workshops with Chris Watson (UK) and Douglas Quin (USA). In 2012 she assisted with field recordings for the Centenary of Canberra's artist in residence, Jyll Bradley's (UK) project City of Trees.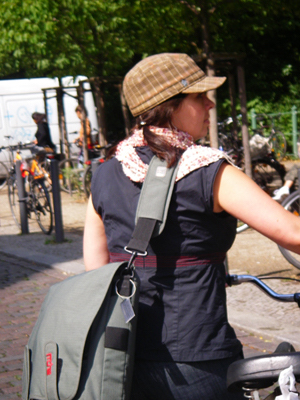 Turkish Markets, Maybachufer Berlin, 2008. photo: Maria-Eleni Alesandre
Digital Preservation Specialist - Policy & Planning (Polonsky Fellow), Cambridge University Library - University of Cambridge September 2016 - Current (United Kingdom)
Co-Convenor - Electron Digital Audiovisual Heritage Special Interest Group (2015 - Current)
tele path, a trilogy of audiovisual works, single channel video and 5.1 surround sound DVD (2008)
out | side | in, Unfenced, the Australian Computer Music Society Compilation Double CD (2008)
Shimmer, Electricity 2, Blatant Propaganda, Compilation CD (2004)
Shimmer, ACMA2004, the Australian Computer Music Society Compilation CD (2004)
Book Chapter: Langley, S., Digital preservation should be more holistic: a digital stewardship approach, in "Digital Preservation in Libraries: Preparing for a Sustainable Future", Association for Library Collections and Technical Services (ALCTS), USA, (2018)
Book Chapter: Mason, S., Pretlove, L., Halvarsson, E., Langley, S., Gerrard, D., Mooney, J., Could collaborative research between two major libraries help consolidate digital preservation and break the 'project cycle'?, in "Digital Preservation in Libraries: Preparing for a Sustainable Future", Association for Library Collections and Technical Services (ALCTS), USA, (2018)
Langley, S., "Complex Digital Objects", National Library of Australia Gateways, Issue 84, December 2006, http://www.nla.gov.au/pub/gateways/issues/84/story05.html
Wajon, S., Langley, S., Cassidy, D., Obsolete Physical Carriers in NSLA Collections – Stage 1 Report, National and State Libraries Australasia, February (2016)
Langley, S., Archives in the Digital Era Scoping Study Report, Australia Council for the Arts (2012)
Lee, B., Clifton, G., Langley, S., PREMIS Requirement Statement Project Report, Australian Partnership for Sustainable Repositories , July 2006, http://www.apsr.edu.au/publications/presta/
Halvarsson, E., Mason, S., Pretlove, L., Langley, S., Parallel Auditing of University of Oxford and Cambridge's Institutional Repositories, 12th International Digital Curation Conference(IDCC), 20th – 23rd February 2017, Edinburgh, Scotland (2017)
Davies, M., Langley, S., "A Foot In The Door", Joint International Association of Sound and Audiovisual Archives (IASA) and Baltic Audiovisual Archival Council (BAAC) conference proceedings, Vilnius, Lithuania, 6 - 10 October 2013
Langley, S., Carter, T., Davies, M., Gilmour, I., "Managing Multi-platform Materials: Selected Case Studies", 19th International Symposium on Electronic Art, Sydney, 11 - 13 June 2013
Langley, S., "The Big Connect", RealTime, ISEA 2013, http://www.realtimearts.net/feature/ISEA2013/11201
Wilkinson, M., Jeong-Reuss L., Elford, D., Langley, S., "Getting the Whole Picture - finding a common language between digital preservation and conservation", 7th Book, Paper and Photographic Materials Symposium, Brisbane, 29 - 31 August 2012
Langley, S., "Almost There: Simple Stratgies for Partial Preservation of Complex Digital Objects", 35th Australian Institute for the Conservation of Cultural Material National Conference (AICCM), Canberra, Australia, 19 - 21 October 2011
Bencina, R., Wilde, D., Langley, S., "Gesture ≈ Sound Experiments: Process and Mappings", 8th International Conference on New Interfaces for Musical Expression (NIME), Genova, Italy, 4th - 8th June 2008
Langley, S., Where Are We?, Vital Signs conference, 9th September 2005, Australian Centre for Moving Image (ACMI), September 2005, Melbourne
Langley, S., "Digital Holiday", RealTime, Issue 104, August/September 2011, http://www.realtimearts.net/article/issue104/10366
Langley, S., "Aligning Senses and Ethics", RealTime, Issue 102, April/May 2011, http://www.realtimearts.net/article/issue102/10283
Langley, S., "Tooling the Art of Electronics", RealTime, Issue 95, February/March 2010, http://www.realtimearts.net/article/102/9774
Langley, S., Locating the Garage: ARIs in Canberra, Un Magazine, Issue 3.2 2009, http://www.unmagazine.org/un/un_3.2_web_final2.pdf
Langley, S., "Magic and Mistakes - ISEA 08, Singapore", RealTime, Issue 89, December/January 2008/2009, http://www.realtimearts.net/article/issue88/9234
Langley, S., "Corresponding Networks ", Filter, Issue 68, Winter 2008
Langley, S., "Empathy and Otherness", RealTime, Issue 82, December/January 2007/2008, http://www.realtimearts.net/article/82/8764
Langley, S., "Sonic Secrets", Filter, Issue 64, January 2007
Panel chair and organiser – Langley, S., Seles, A., Byrne, A., Katre, D., Lukose, J., Caron, B., Zhang, X., Operational Pragmatism in Digital Preservation: Establishing context-aware minimum viable baselines, International Digital Preservation Conference (iPres), Kyoto University, Kyoto, Japan (2017)
Conference presentation – Langley, S., Realistic digital preservation in the near future: How do we get from A to Z when B seems too far away?, Preservation and Archiving Special Interest Group Conference (PASIG), 11th – 13th September 2017, Oxford, UK, (2017)
Conference presentation – Langley, S., Audiovisual collections from a digital preservation perspective: approaches to acquisition and preservation, 48th International Association of Sound and Audiovisual Archives Annual Conference (IASA), 17th – 21st September 2017, Berlin, Germany, (2017)
Conference presentation – Langley, S., Planning for the End from the Start: An Argument for Digital Stewardship, Long-term Thinking and Alternative Capture Approaches, International Interdisciplinary Conference on Digital Cultural Heritage, 30th August – 1st September 2017, Berlin, Germany, (2017)
Coordinator – Current Trends in Digital Collecting: Theory and Practice panel, Forging Links - Australian Society of Archivists annual conference, Sydney, 17th – 21st October (2016)
Presenter – For Artists: Digital Archiving Masterclass, Museum of Contemporary Art Australia, 27th August, Sydney (2016)
Talk at FailureLab as part of the Vivid Ideas festival (2016)
Short presentation on digital collecting needs of Australian Cultural Institutions, on behalf of AICCM DAVHSIG ElectronAustralasian Sound Recordings Association conference, National Film and Sound Archive of Australia, Canberra (2013)
Davies, M., Langley, S., "A Foot In The Door", Joint International Association of Sound and Audiovisual Archives (IASA) and Baltic Audiovisual Archival Council (BAAC) conference, Vilnius, Lithuania, 6 - 10 October 2013
Paper presentation - Managing Multi-platform Materials: Selected Case Studies, 19th International Symposium on Electronic Art (ISEA), Sydney (2013)
Paper presentation - Almost There: Simple Stratgies for Partial Preservation of Complex Digital Objects, 35th Australian Institute for the Conservation of Cultural Material National Conference (AICCM), Canberra (2011)
Panel Presentation - as part of the Thinking Through The Body Ensemble, SEAM Symposium , Sydney (2010)
Presentation - Rising from Down Under: Australian Media Arts and Artists, presented by HUB Praha and CIANT, Prague (2010)
Paper presentation - Last Known Location: Somewhere Between Zero and One, Endangered Sounds Conference, Australasian Sound Recordings Association, National Library of Australia, Canberra (2009)
Presentation - Electrofringe festival, cellsbutton#03, Yogyakarta International Media Art Festival, Yogyakarta, August (2009)
Panel presentation - Sustainability of Sound Arts in Australia, Liquid Architecture, Sydney (2009)
Presentation - Mediating Models and Modes, Media in Motion: The Challenge of Preservation in the Digital Age, DOCAM and McGill University, 29th October 2008 Montreal, Canada, (2008)
Artist Talk - The Suspect Backpack, International Symposium on Electronic Arts, Singapore (2008)
Artist Talk (with Alexandra Gillespie) - Collar Weights, International Symposium on Electronic Arts, Singapore (2008)
Poster presentation - Gesture ≈ Sound Experiments: Process and Mappings, 8th International Conference on New Interfaces for Musical Expression (NIME), Genova, Italy (2008)
Panel presentation (presented by Alexandra Gillespie on my behalf), WearNow Panel, Electrofringe, Newcastle (2007)
Paper (on behalf of David Worrall) - SoniPy: The Design of an Extendable Software Framework for Sonification Research and Auditory Display, International Conference on Auditory Display, McGill University, Montreal (2007)
Paper - Perceiving the Outsider as part of the panel Engaging the Outside, UnAustralia - Cultural Studies of Australasia Annual Conference, Canberra (2006)
Paper (on behalf of Nick Mariette) - Perceptual Evaluation of Spatial Audio for "Audio Nomad" Augmented Reality Artworks, Engage, University of Technology, Sydney (2006)
Panel - Digital Archiving and Media Art History Writing, Electrofringe, Newcastle (2006)
Paper - What art we listening to?, Australasian Sound Recording Association Conference, Canberra (2006)
Artist Talk - Sonic Gesturing: Utilising a Wearable Interface in Live Electroacoustic Performance, Australasian Computer Music Conference, Adelaide (2006)
Panel - Collaboration in the New (Media) Age, Electrofringe, Newcastle (2005)
Osbourne, Tony, "Architectural Meltdown", RealTime, Issue 92, August/September 2009, http://www.realtimearts.net/article/issue92/9537
Whitelaw, Mitchell, "Threshold Intimacies", RealTime, Issue 91, June/July 2009, http://www.realtimearts.net/article/91/9470
Riddell, Alistair, "Creative electronic Community", RealTime, Issue 89 February/March 2008, http://www.realtimearts.net/article/issue89/9346, accessed 23 June 2009
"Furthering Hybridity", RealTime, Issue 84 April/May 2008, http://www.realtimearts.net/article.php?id=8952, accessed 23 June 2009
Heiss, Leah, "Under the Skin", Craft Australia - 716 craft + design, Issue 28, March 2007, http://www.craftaustralia.com.au/articles/20070328.php, accessed 24 March 2008
Jones, Stephen, "Memories of buildings and other ghosts", RealTime, Issue 73 June/July 2006, http://www.realtimearts.net/article/73/8139, accessed 29 February 2008
Rodgers, J., "Student to put on show with musical jacket", Monitor Online, January 2006, http://www.canberra.edu.au/monitor/reports/20060124_somaya.htm, accessed on 20 November 2006
Kelly, M., "An interview with Somaya Langley", Filter, Issue 61, November 2005/January 2006
Sinclair, J., "Spaced-out artists create way-out worlds", The Age, 3rd October 2005, http://www.theage.com.au/news/business/spacedout-artists-create-wayout-worlds/2005/10/02/1128191605847.html, accessed on 20 November 2006

Hamilton, A., "On Location: Liquid Architecture"

, The Wire , Issue 259, September 2005

Fish, B., B., "Liquid Architecture 6 "

, Cyclic Defrost, Issue 12, September 2005, http://www.cyclicdefrost.com/article.php?article=1017, accessed on 13 January 2007
Kubikle Kitten, "Liquid Architecture feat Thomas Brinkmann", In The Mix, 6th July 2005, http://www.inthemix.com.au/reviews/events/21751/, 6th July 2005, accessed on 26 August 2005
Priest, G., "Circuitous Journeys", RealTime, Issue 62 August/September 2004, http://www.realtimearts.net/rt62/priest.html, accessed on 26 August 2005
Keen, S., "Still travel", RealTime, Issue 61 June/July 2004, http://www.realtimearts.net/rt61/keen.html, accessed on 26 August 2005
Rendle-Short, F., "NMA's Living Exhibits" RealTime, Issue 60 April/May 2004, http://www.realtimearts.net/rt60/rendle_sky.html, accessed on 26 August 2005
"Scan 2003: new artists, new work", RealTime, Issue 57, October/November 2003, http://www.realtimearts.net/rt57/langley.html, accessed on 26 August 2005